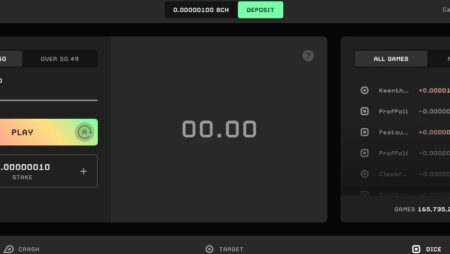 One of the fastest-growing crypto gambling sites around today is BCH.games. We were lucky enough, to be able to ask them a few questions to find out more about their site.
Why did you decide to start your website?
We are passionate players and got frustrated using some existing crypto casinos:
Deposits were sometimes taking 1 hour to be credited. We credit instantly (0 confirmations).
Transaction fees were too high. BCH fees are a fraction of a penny and we don't charge any extra fees
The minimum withdrawal amount was too high. We have the lowest in the industry (0.087usd as of today's price).
The registration process was too long and invasive. We made it instant and ask for zero personal information.
Some sites would block withdrawals and ask for KYC, we don't.
Some sites would request tedious captchas for faucets or give you some monopoly money instead. We give everyone free bch, instant, with no captcha and unlimited claims.
Support was slow. We solve our player's problems instantly (read our 4.9/5 review on Trustpilot).
Most sites had a terrible mobile design, we designed our mobile site first.
Affiliate programs usually pays weekly or monthly, with BCH.games you can claim your earnings anytime you want.
Auto-playing modes were slow, we made them blazing fast.
We also made a 1% house edge and provable fairness as standard for each game.
What made you decide to use Bitcoin Cash as the primary cryptocurrency?
Our goal is to provide the best experience for our players. We are a friction-free gaming site. BCH is providing the best user experience and removes all possible issues. It's perfect for us because:
Transactions are instant(0 confirmations)
Crazy low fees
BCH is a trusted coin with huge growth potential
Do you have any plans in the future to add more games and accept more cryptos?
We are already accepting 26+ coins for deposits, thanks to https://sideshift.ai, including:
Bitcoin
Ethereum
Tether
Doge
Zcash
Dash
Litecoin
Monero
BSV
Stellar Lumens
Uniswap
Sushi
Yearn and most Defi Coins…
We are launching a new minesweeper game at the end of May.
How high do you think the price of bitcoin cash can go?
We're builders, not traders and we prefer not to speculate on price changes. We focus on having the best product, just like other builders in these other communities (https://noise.cash, juungle.net onlycoins, https://bitcoin.com wallet, http://k.im, etc…)
Why do you think cryptocurrency gambling sites are becoming so popular?
It's fun, it's fast and it's fair. No more bullshit scam bonuses and crazy high house edges. The new wave of gaming sites provides way more value to players. Crypto gambling markets are here to stay.
What is the biggest win a player has ever had on your site?
For now, 9.12 BCH from a 0.66 initial deposit. But this number increases every week, we are still young and have huge plans for the future.
We would like to say a massive thank you to Jet from BCH.games for answering our questions. You can read our full review here. Currently, you can play Dice, Crash and Target at BCH.games. Make sure you check them out.